Wrexham 'super prison' to benefit economy, says council leader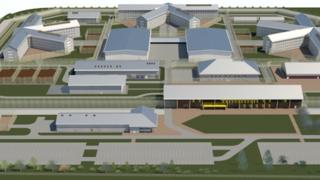 Wrexham's planned £212m "super prison" will bring big benefits to the local and regional economy, says the council's new leader.
Mark Pritchard said it is hoped £30m will be spent with local firms to bring the plans to fruition, with labour recruited locally.
The planning committee meets next Monday to discuss outstanding issues like landscaping and parking.
The prison, which will hold 2,000 inmates, is due to open in 2017.
There have been some concerns about the possible impact the prison could have on the area regarding policing, health and transport.
Councillor Pritchard, who was elected last month, said the authority and its partners were trying to maximise economic and community benefits from the development on Wrexham Industrial Estate such as creating 100 apprenticeships.
He said: "It can only benefit and have a huge impact on north Wales' wider economy, from construction jobs to suppliers of existing businesses.
"It has been estimated that is could be in the region of £23m annually."
In August, diggers began preparatory works on the former Firestone rubber factory site which will house the prison.