Alun Rees inquest: Social services 'lost' help plea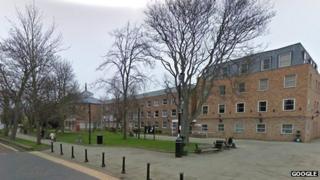 A Wrexham man with Down's Syndrome was not allocated a social worker as an application for support was "lost" after concerns were raised three years before he died, an inquest heard.
The sister of Alun Rees, 54, from Brymbo, asked for support in 2008 but he never underwent an assessment.
The inquest was told that the case was "lost in the process of allocation".
He died from multiple organ failure due to a sepsis infection in September 2011 after being admitted to hospital.
A narrative conclusion was recorded by John Gittins, senior coroner for north Wales east and central.
The hearing was told on Tuesday that Brenda Griffiths looked after her younger brother full time since the death of their mother in 1993.
However, she started to suffer from ill health and, in January 2008, she rang social services asking about funding for support.
Social worker Angela Edwards, who took the call, told the hearing that she made notes about Mr Rees's case and she was concerned there was a risk because of his level of need and Ms Griffiths's health.
'Absolutely shocked'
She put the details into a computer system but, although it was categorised as a "priority one case" at a subsequent allocation meeting, an assessment was never made and a social worker never allocated, the inquest heard.
Sheila Finnegan Jones, the head of service for learning disabilities for Wrexham council, said "it got lost in the process of allocation" and she told the inquest the system for allocation has since been changed.
Mr Rees died a month after being taken to Wrexham Maelor Hospital in August 2011 with the "worst" pressure sores some staff had ever seen.
Giving evidence yesterday, Mrs Griffiths said she was "absolutely shocked" when she was told about the sores by a nurse, saying she had been treating "nappy rash" type marks with antiseptic cream.
Her son, Matthew, told the inquest on Wednesday that Mr Rees "doted on her", but that her own health was poor and in the months leading up to his death, the house became chaotic.
Mr Griffiths said Mr Rees was fit, well and was in good spirits the last time he saw him at a family birthday meal about four months before he was admitted to hospital.
'Lessons learned'
Giving his conclusion, Mr Gittins said: "Historically, issues had been raised regarding his care and request made for additional support, and whilst it is apparent that these were neither acted upon nor escalated he nonetheless continued to enjoy a good quality of life until around May 2011 when he became less mobile than previously following a fall."
He said a reduction of mobility is probably why he developed the pressure sores.
He added it was not possible to age the injuries due to the way they develop from the inside out. But he said that earlier treatment of the sores would have reduced the risk of the progression of the disease process which resulted in his death.
Andrew Figiel, chair of the Wrexham Adult Safeguarding Board (WASB) said: "Since Mr Rees' death there have been key improvements to the way in which agencies work together and the lessons learned are being shared more widely by all the agencies to improve policies and practice in this difficult area."