'Shameful' abuse at Wrexham children's home run by John Allen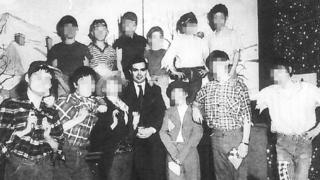 A paedophile who ran children's homes has been convicted of a "shameful catalogue of abuse" spanning decades.
John Allen, 73, who ran a string of homes in Wrexham, denied 40 counts of abuse against 19 boys and a girl from the late 1960s to the early 1990s.
He was jailed in 1995 for abusing boys, Mold Crown Court heard. The latest case was brought by a new inquiry into historical abuse claims.
"It wasn't care, it was like hell," one former Bryn Alyn resident said.
Allen's trial heard of a "culture of fear" at his children's homes which he ran with an "iron fist" and where there were regular physical beatings.
Some told how they were groomed by Allen who would give them expensive gifts, including cash, clothes and on one occasion a motorbike.
Others said that sexual abuse was "part of life".
The trial also heard that some children spoke to those in authority, including the police, but were often ignored or disbelieved.
After the hearing, Ed Beltrami, chief crown prosecutor for CPS Wales, said: "John Allen is responsible for a shameful catalogue of abuse carried out over a long period of time, decades, impacting upon a large number of victims.
"All of those victims were at the time people who were away from their family homes, in his care in children's homes and looking to him for support and guidance.
"Instead of that they received shameful abuse from him and a number of very serious offences of a sexual nature were committed against them, which have had a devastating effect on their lives."
The new charges came to light as a result of Operation Pallial, an investigation which was started by the National Crime Agency (NCA) in 2012 into historical abuse claims in homes in north Wales going back to the early 1960s.
It was one of two inquiries announced by the Home Secretary Theresa May. It followed allegations on a Newsnight report by one of the victims who said the original inquiry into abuse only examined a fraction of the claims.
Former hotelier Allen, of Needham Market, Suffolk, opened his first home, Bryn Alyn Hall in Llay, near Wrexham, in 1968 although he did not have any qualifications in childcare, his trial was told.
He set up the Bryn Alyn Community which was to become one of the UK's largest providers of residential care providing accommodation for children sent from about a dozen local authorities.
Most of the abuse is said to have taken place at three homes: Bryn Alyn, Pentre Saeson and Bryn Tirion.
During the trial which began in early October, the jury was told of Allen's previous conviction in 1995 for six counts of indecent assault involving repeated abuse of six boys dating from the 1970s.
He had never appealed against the six-year jail sentence.
More victims came forward following the publication of the Waterhouse report into abuse in north Wales care homes in 2001 and after Operation Pallial was set up.
"The impact on the lives of those John Allen abused may never be undone," said Ian Mulcahey, Operation Pallial's senior investigating officer.
He described Operation Pallial as "large and complex" with allegations received from 236 people under active investigation.
He said 120 people had been named as potential suspects and that 35 people had been arrested or interviewed under caution. From that figure, 12 people are due to stand trial for various offences in 2015.