Saltney ferryman's past revived in new trail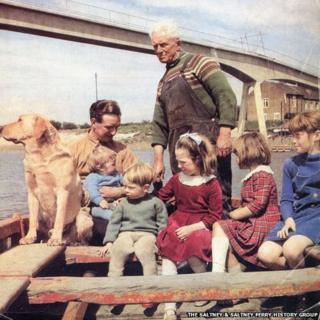 An £80,000 project to clean-up part of the Dee has seen a sculpture and audio trail created to mark a Flintshire town's links to the river and sea.
The banks of Dee at Saltney once supported shipbuilding and sea-going industries, like chain-making.
The audio trail includes an archive interview with Saltney's last ferryman, Bob Manifold, recorded in the 1960s.
The ferry business began in 1790 and was handed down through the Manifold family before it ended in around 1966.
The 12-seat ferry service, funded by Flintshire council, operated from 05:00-21:00, sometimes carrying up to 300 people a day before a bridge and regulations started its decline.
But at one time it carried babies across the river to be baptised at a nearby church along with coffins for burial services, according to a newspaper interview Mr Manifold gave in 1968.
The clean-up has been completed and the trail is due to be launched officially in January.
The project has been led by Saltney town council with Flintshire council, regeneration agency Cadwyn Clwyd and Natural Resources Wales along with advice from The Saltney & Saltney Ferry History Group.