Demolition of Corwen Pavilion set to start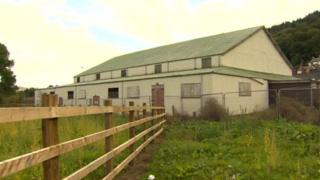 The demolition of Corwen Pavilion gets under way on Monday, with completion expected by mid-February.
Denbighshire council said contractors would begin by stripping out internal areas and removing asbestos from the venue.
Despite a local campaign to save the building, a 2014 court ruling found in favour of the site being demolished.
The venue, which was built in 1911, was closed in March 2010 because of health and safety issues.
Councillor Huw Jones said: "I understand that this will be a sad day for some as the Corwen Pavilion has been a key feature in the town.
"But such a building was always going to have a limited life span and surveys carried out in 2010 showed it had finally deteriorated beyond economic repair."