Mold Tesco attacker 'yelled white power' before attack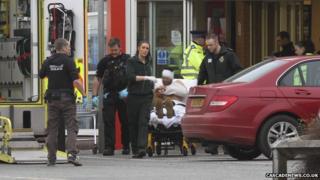 A man reportedly yelled "white power" before launching an attack on another man at a Tesco supermarket.
The suspect, 25, has been arrested for attempted murder following a suspected racially motivated attack at the store in Mold, Flintshire.
North Wales Police said the 24-year-old victim suffered "life-changing injuries" in the attack on Wednesday afternoon.
Officers were given another 12 hours to question the suspect on Thursday.
Witnesses say customers were asked to leave the store and helped from security staff was called for.
Shopper Colin Cooper said people were "panicked and scared" and there were children in the store at the time.
Delyn MP David Hanson said: "I know that the people of Mold will want to send their sympathies to the victim but will also share my horror and revulsion that that type of attack can occur in a town like Mold."
The store and its petrol station re-opened on Thursday morning.
The injured man is from Yorkshire.