Two cows rescued after falling down 30ft mineshaft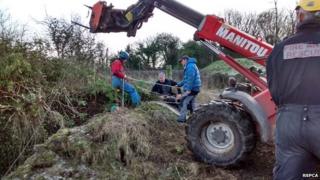 One cow has been saved and another died after the animals fell down a Flintshire mineshaft.
The two cows became trapped after they fell 30ft near Axton in Holywell.
Spotting his cattle chest deep in water at the bottom of the shaft, the owner called the RSPCA for assistance.
Both cows were winched free, though one had to be put down due to its poor condition following the incident three weeks ago.
RSPCA inspector Mark Roberts said: "I think what had happened is that one had fallen first and the other landed on top of it."
North Wales Cave Rescue team and North Wales Fire and Rescue Service assisted with the rescue.
RSPCA spokeswoman said: "It was a successful rescue. The one who survived was fine."