Wrexham Maelor A&E doctor blames bed shortage for waits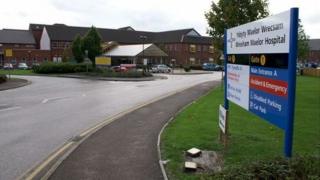 An emergency medicine consultant has blamed a drop in his hospital's performance on a lack of capacity in parts of the region.
Aruni Sen said Wrexham Maelor's A&E unit was the best performing five years ago - and working practices had not changed.
Now the unit has the longest waits for patients to be seen in Wales.
Health minister Mark Drakeford said a "whole system approach" to care meant no A&E unit has had to close its doors.
Performance figures showed Wrexham Maelor's emergency unit treated 65.6% of people within four hours in December. The Wales target is 95%, but the Wales-wide proportion treated within that time was 77.2%.
Mr Sen said the problem did not lie within the A&E unit but in the "lack of capacity" in other areas.
He has previously said staff were leaving because of stress and pressure.
He told BBC Radio Four: "This is wholly thrust upon us from other areas of the hospital and community. Too many people are on our doors, way beyond our capacity.
"The hospital doesn't have sufficient beds so when we treat people, complete the treatment and request admission for ongoing care, that bed is not to be found."
'Stuck in the middle'
He added community beds had also been reduced, meaning patients cannot be discharged as they have nowhere to go.
"We're in the middle, stuck, feeling responsible for a patient and unable to help," added the consultant.
However, the health minister defended how the service in Wales was treated, amid criticism that NHS budgets have not been given the same protection as those in England.
Mr Drakeford said the approach in Wales meant that social care budgets had benefitted, and as a result no hospital A&E department in Wales had been forced to close its doors due overwhelming patient demand - unlike some hospitals in England recently.
"We have been able to work with our social services colleagues, working incredibly hard with us to discharge people from our hospitals, find beds for them in care homes and nursing homes," insisted the minister.
He said attacks on the Welsh NHS came from people across the border who were "only interested in making political capital from it".