Bulldozers move in to demolish Corwen Pavilion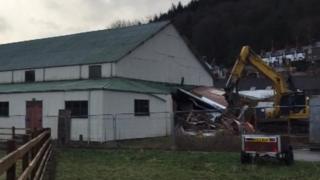 Bulldozers have started demolishing a Denbighshire community centre after an injunction was lifted.
Corwen Pavilion closed in March 2010 because of health and safety issues prompting a local campaign to save it.
An injunction preventing demolition was finally lifted in September last year.
Sections of the building will be taken down individually over the next three weeks and Denbighshire council plan to pass the land to a community group to build a new venue.