Glyndwr University has a future, insists new vice chancellor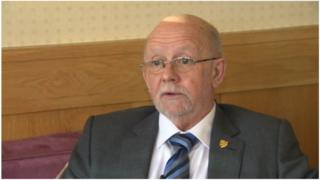 "I wouldn't have come here if I thought we'd have to close the place."
My first question to Graham Upton, the new interim vice-chancellor of Glyndwr University was whether the institution would still exist in five years.
The reply exuded confidence, but then he comes across as a confident man. Of course, a shrinking violet would not have his track record in higher education. Mr Upton was headhunted for arguably the toughest university sector job in Wales.
Glyndwr, do not forget, is in trouble. Its reputation is in tatters. Its finances challenged, to say the least.
Since June last year, the university's ability to recruit lucrative international students from outside the European Union has been limited by the UK government's decision to suspend and then restrict its so-called "highly trusted sponsor" status following an investigation into visa fraud.
The problem was at a company used by Glyndwr and other universities to handle their English language tests.
Fast buck?
Mr Upton is quick to defend the principle of recruiting from abroad.
"Every university wants international students because of the impact they make on the student experience," he told me.
But was not Glyndwr simply chasing the fast buck by setting up a satellite campus in London? He was not sure about a fast buck but the financial importance of these students is not denied.
"In this case, in all universities' cases too, international students bring in extra money and make an institution more viable than the sort of funding we now get from government and from student fees," he said.
Mr Upton may have been born in Birmingham but his accent still betrays an Australian upbringing. He has worked in Wales before, at University College Cardiff where he was dean of the faculty of education. A decade was spent as vice chancellor of Oxford Brookes University.
A move to Cumbria University confronted him with similar challenges to those before him now at Glyndwr. When he arrived Cumbria's finances were out of control. Mr Upton is widely credited with sorting out the mess, but it took job cuts and the sale of assets.
So can we expect the same at Glyndwr?
"It's a similar job," he says.
"The challenges at Cumbria were more substantial than here. Here, we've got financial difficulties but in the last year a lot has been done to pull back from those and a lot of progress has been made.
My challenge is to build on some of the things that have been done already and get us back into a stable position."
At Cumbria it was reported this higher education trouble-shooter pocked around £250,000 a year.
It was not all salary, he insisted. So how much will he be getting for his extendable nine month contract in Wrexham?
An average vice chancellor's salary apparently, and they run at between £200,000 and £400,000 a year.
It will be for others to judge whether he proves to be good value for money. What's certain is there's plenty of work to be done and not much time in which to do it.
In this first week in post there will be a trip to Cardiff for talks with the Welsh government. Next week a further report on those international student visa issues is expected from the UK government.
Graham Upton does not want to condemn decisions that were taken in the past.
"Its too early to say whether there were issues which could have been avoided," he says.
There is optimism that Glyndwr will be able to continue recruiting in Wrexham and finish the courses of students in London. The long term goal is to rebuild what he describes as a "more viable operation" there.
The long term goal hardly needs re-stating. "Its so important that this University does survive," he said, "and does continue into the long term for the people of the region."