Spanish snow traps Welsh tourists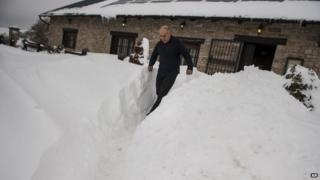 A couple from Wales is among tourists forced to spend the night in a school gym in Spain after being caught in snow storms in the north of the country.
Gwynn Roberts and wife Valerie, from Prestatyn in Denbighshire, had to be rescued by police after being stuck in their car for four hours.
Local newspapers have reported about 100 people needed help after the A67 Santander motorway became blocked.
Snow is causing widespread disruption in central and northern Spain.
Mr Roberts said: "We were coming out of Santander and had just been on the ferry. They told us it had been snowing and to be careful. We set off on the motorway and there was a bit of snow and ice - not a lot.
"As we carried on, it started again, really heavy snow. I have not even seen it like that in Snowdonia."
The couple had been heading for Marbella when they became trapped by the snow.
He said they are still at the village school in Aguilar de Campoo, along with about eight other British nationals who have also been stranded.
Mr Roberts added: "Come to Spain for the winter sun, they say, and you get loads of snow."