Wrexham A&E consultant warns young drivers about dangers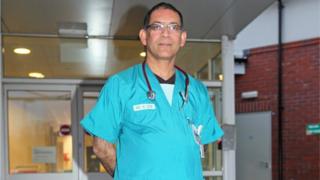 An A&E consultant is calling on young motorists to take care when behind the wheel, saying he despairs when he has to break bad news to relatives after fatal or serious injury crashes.
Aruni Sen, based at Wrexham Maelor Hospital, said after 19 years it has not got easier dealing with such cases.
"Most patients I see who arrive at hospital following a serious accident are young people," he said.
He blamed speed and poor decision-making as big factors in their crashes.
Mr Sen and Anglesey GP Doctor Mike Bloom helped to set up the North Wales Emergency Doctor Service (NWEDS) in 2010, which works in conjunction with the Welsh Ambulance Service NHS Trust to send out volunteer doctors to major incidents such as vehicle collisions.
He said: "It's a simple fact that the majority of crashes resulting in serious injuries involve drivers who only qualified to drive within three years of the crash and 75% of those seriously injured or killed are young drivers under 23 years of age.
"When we do have a fatality, or a patient with serious life-changing injuries, we, like the police, are to some extent trained to deal with the aftermath.
"But I still despair and wish the young driver involved could see the pain, devastation and hurt that resulted from their actions."