Man, 49, arrested after spate of arson attacks in Wrexham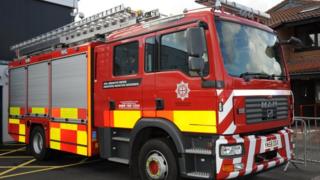 A 49-year-old man has been arrested following a spate of arsons in Caia Park, Wrexham.
The incidents were all in the Bryn Hafod area and involved fire damage to the door of a house, the front seat of a car and a blaze in a skip.
North Wales Police have stepped up patrols to reassure residents and are appealing for information.
The 49-year-old local man has been released on bail.
Fire crews were called to Bryn Hafod at 02:05 GMT on Friday and a man, 49, was taken to hospital suffering smoke inhalation.
Detective Inspector Lee Boycott said: "We have made an arrest in connection with the fires and a male is currently the subject of police bail pending further enquiries."