'Vitally important' Scala cinema reopens by Easter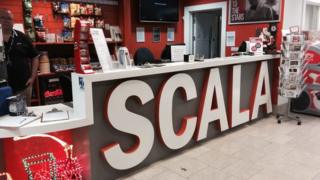 It is "vitally important" a Denbighshire cinema is reopened by Easter, town councillors have said.
Prestatyn Town Council are repaying a £1m loan which they took out in 2007 to help refurbish Scala Cinema and Arts Centre.
But after the cinema closed in January, the council said residents were seeing no return "for their money".
Around £66,000 a year goes toward repaying the loan, but it has no assets or security against it.
It is set to repay the loan over 25 years - whether the building, which is owned by Denbighshire council, is open or not.
Deputy Chairman of Prestatyn council, Bob Paterson, said: "It is extremely important that this facility is functioning.
"As a town council, to see any return on that loan that we are paying back, those doors have got to be open, people have got to be walking into and using the Scala."