£10m price tag for Denbigh hospital site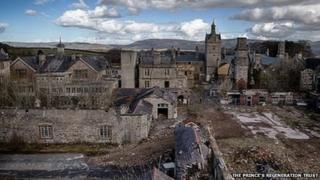 The man behind plans to redevelop a derelict Victorian hospital in Denbighshire turned down a £1m offer for the development site, wanting closer to £10m, an inquiry heard.
Solicitor Ayub Bhailok's company paid £310,000 for Denbigh hospital in 2003.
Current owners Freemont (Denbigh) Limited are appealing against a compulsory purchase order (CPO) by Denbighshire council.
The authority say the action is needed to preserve important buildings.
A key issue before the public inquiry is whether the council was justified in stepping in or whether the company should have been given more time to pursue its own proposals to redevelop the massive site.
In 2011, Denbighshire council served an urgent works notice on the British Virgin Islands-based company and then carried out work on the former North Wales Hospital which closed in 1996.
Last October, a public inquiry was held into the council's claim for £900,000 to be refunded by Freemont for the work and the Welsh government's decision on that is expected within the next three weeks.
Plans for a mixed development have been submitted on behalf of the Prince's Regeneration Trust, working in conjunction with the council.