Puppies dumped in Flintshire rubbish bin 'doing well'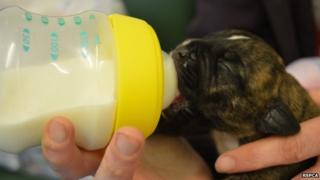 Eight new-born puppies found dumped in a Flintshire bin are "doing well", the RSPCA has said.
The Staffordshire bull terrier cross pups were just a few days old when they were discovered by children in Chester Road East, Queensferry, on Thursday.
RSPCA carers are looking after the pups, which weigh 200 grams each, bottle feeding them every two hours.
Carer Emma Nesfield said: "They are getting more and more active now and are doing well."
RSPCA inspectors are urging anyone with information about the dumping of the animals to come forward.