Flooding on 1,700 Bodelwyddan village homes site claim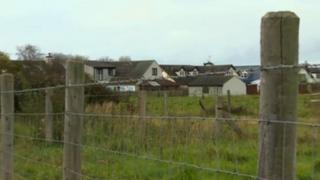 Campaigners against a housing development which will treble the size of a Denbighshire village claim evidence of flooding has been ignored.
Residents who have fought plans to build 1,700 homes at Bodelwyddan say Denbighshire council has gone ahead with the scheme despite their concerns.
The council said there is no history of significant flooding in the village, and there are no records showing flooding affecting houses, only roads.
But campaigners reject those claims.
They said they have handed evidence of flooding to the council and to a public inquiry, including flooding in a house on the development site.
Medwen Williams, of Save Bodelwyddan Action Group, told BBC Radio Cymru's Manylu programme she obtained evidence from North Wales Fire and Rescue Service under the Freedom of Information Act that a farm within the development boundary had 18in (45cm) of water in the property.
"There are also photos of gardens right next to the development full of water and it happens every year, every winter," she added.
But Denbighshire councillor David Smith said: "If there are any then something should be done about it, of course. But, at the moment, nobody has told us we can't build there because of flooding."