400 Wrexham tax office jobs in doubt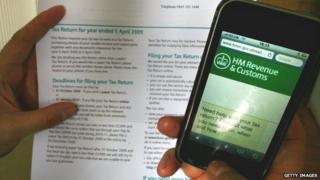 The future of nearly 400 jobs at a tax office in north Wales has been thrown into doubt.
Her Majesty's Revenue & Customs (HMRC) is considering axing its site at Wrexham Technology Park, with the 383 workers potentially moving across the border.
HMRC wants to open large regional centre, rather than smaller offices.
It said it was modernising and would make a final decision at the end of the year.
"HMRC is seeking to transform our shape and size," a spokesman said.
'No decision'
"We're bringing our IT and infrastructure right up to date and want to draw most of our teams closer together in a smaller number of large, modern, adaptable regional centres.
"As far as Wrexham is concerned the nearest regional centre is more likely to be Liverpool or Manchester depending upon where individuals live but no firm decisions have yet been made."
In 2014, HMRC announced the closure of 14 offices across the UK, including ones in Carmarthen, Colwyn Bay, Merthyr Tydfil and Pembroke Dock.