Killer of Anthony and Linda O'Malley on the run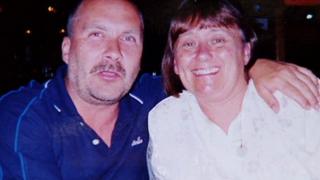 One of the killers of a couple from Denbighshire is reported to be on the run.
Anthony, 42, and Linda O'Malley, 55, from Llangollen, were kidnapped, robbed and murdered on the Costa Blanca, Spain, in 2002.
Jorge Real Sierra and his brother-in-law Juan Antonio Velazquez Gonzalez were convicted of the killings in 2006.
But, Sierra disappeared while on a six-day temporary release from prison in Granada, a Spanish news agency said.
A warrant has been issued for the arrest of Venezuelan-born Sierra, now 65.
The O'Malleys were lured by their killers to a villa near Benidorm, abducted and had their bank account emptied over the course of a week.
Mr O'Malley was suffocated with a plastic bag, while his wife died from a heart attack. They were buried the cellar of the villa.
Their killers were finally caught when they tried to extract a ransom from relatives, claiming they were still alive.