Glyndwr University avoids High Court visa challenge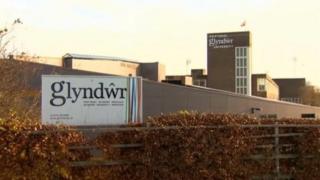 A Wrexham university has avoided a High Court challenge brought by foreign students who were thrown off their courses over visa fraud allegations.
Mr Justice Collins refused to allow seven students to launch a full judicial review against Glyndwr University at a hearing in London.
He said they should leave the country and challenge the Home Office decision.
They were removed from their courses after the BBC found many immigrants may have cheated in tests to get a visa.
The judge said even if the university had allowed the students to make representations after being taken off the course, it would not have been able to keep them "due to the actions of the Home Office".
He added that, as they no longer have a right to live in the UK, "the only remedy is to leave the country and appeal from abroad."
A university spokesman said: "We welcome the decision, which recognises the reasonable action the university had taken in response to the evidence provided to it in these cases."