300 homes and hotel plan for Wynnstay estate, Ruabon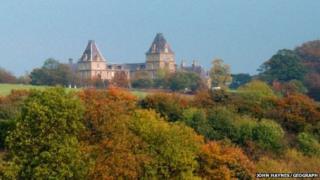 More than 300 homes, a hotel, care home and food store could be built on agricultural land in Wrexham.
Wynnstay Farming Co Ltd has applied to develop the land which forms part of the Wynnstay estate off the A539 and B5606 at Ruabon.
Objectors are concerned about increased traffic and flooding, and are worried that part of it would be built on the Grade I listed park at Wynnstay Hall.
The outline plans will be discussed at a meeting on 30 March.