Swimmers warned about 'dangerous' Denbighshire quarry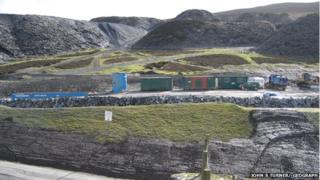 Swimmers and divers were warned to stay away from a "dangerous" flooded quarry where someone was seriously injured last year.
People travel from great distances to cliff dive at the Moel-y-Faen Quarry, Denbighshire, known as the Blue Lagoon.
With heavy machinery currently being used to fill in the water pool at the site, trespassers were warned it is now even more hazardous.
A restoration project is returning part of the quarry to heath and moorland.
Graham Gibson, of Jones Bros Civil Engineering, who owns the site, said people may not be aware water is being pumped away and could travel there over Easter.
"We are keen to spread the word there is no longer an attraction for trespassers. It is also dangerous as there is lots of construction work going on," he said.