Fake owls fail to scare seagulls from former hospital due for demolition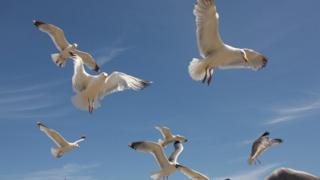 Two fake owls brought in to scare seagulls from a former hospital set for demolition have failed to work.
Work was due to begin last month on demolishing Prestatyn Community Hospital which closed two years ago.
But National Resources Wales ruled that because seagulls are nesting on the roof, the demolition must be put on hold until the chicks have flown.
Dummy owls were put on the roof and initially worked, but seagulls returned when they realised they were fake.
The determination of the gulls to stay put has delighted local residents campaigning to save the hospital building.
Developers Pure Residential and Commercial have bought the site and lodged plans for apartments and houses.