McDonald's criticise Denbighshire takeaway school ban plan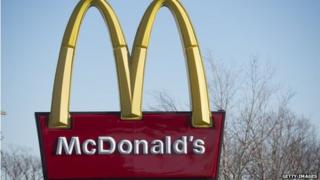 A potential ban on takeaways opening near schools in Denbighshire has been attacked by a planning consultant for the fast-food giant McDonald's.
The authority is considering not allowing hot food takeaways within 400m (437 yards) of school boundaries in a bid to tackle childhood obesity.
It held a consultation into the proposals last year.
But Benjamin Fox, of planning consultants Planware Ltd, said a ban cannot be justified.
"There is no adequate evidence to justify the underlying assumption that locating hot-food takeaways within certain distances of schools causes adverse health consequences," he said.
A spokesperson for the restaurant chain said the proximity of a McDonald's outlet to a school is not one of the factors it considers when deciding on potential sites.
"We would never actively identify and select new sites based on the proximity of schools, nor do we factor in predicted sales from school children," said the McDonald's official.