Wrexham Waterworld centre demolition plans scrapped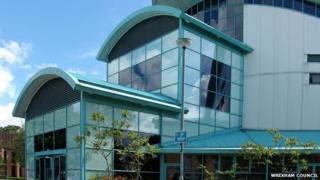 A plan that could have seen Wrexham's Waterworld leisure centre demolished and replaced with a new £12m facility has been scrapped by councillors.
Officials warned back in February that the proposals were no longer affordable.
Instead, the council's board voted to keep the centre and hand over its running to a leisure trust.
An earlier condition survey found the centre could be maintained in its present state up until 2035.
However, the council has been warned that the facility would become "very tired" after 20 years.
The leisure complex was opened by the Queen in 1998 after a major refurbishment of the the town's swimming baths.