Denbighshire taxi drivers banned from wearing shorts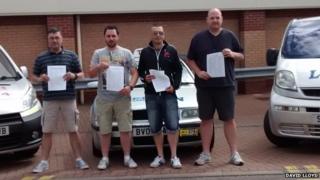 Taxi drivers in north Wales have been banned from wearing shorts in their cabs.
Denbighshire council's licensing committee approved a new dress code that comes into effect Friday.
In a report, the council said it wanted to create "a professional image". But drivers launched a petition against the move and have so far collected 500 signatures.
There are about 400 taxi drivers in Denbighshire, 70 of them in Rhyl.
Hot pants
Rhyl-based David Lloyd, 44, who launched the petition, has been a taxi driver for six years.
"Traffic wardens and postmen are allowed to wear shorts. We're in sunny Rhyl, which is associated with sea, sand and shorts," he said.
"We get very hot sitting on the rank for up to an hour. The decision is crazy, as it's not like we're wearing swimming trunks or hot pants."
Denbighshire council declined to comment on the decision.