A55/A483 Wrexham bypass road works completion delayed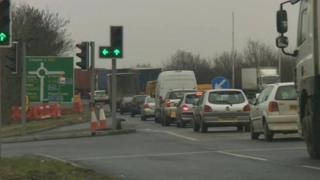 Completion of road works causing hold-ups between the A55 and A483 on the Chester-Wrexham border have been put back again.
Highways officials say the £6m remodelling of the carriageway and Posthouse roundabout should now be finished by 28 June.
Work which began last summer was initially expected to finish by March before it was knocked back to May.
The work has been extended for extra bridge strengthening work.
Highways England said it will temporarily reopen a third lane on the roundabout for the estimated 65,000 people travelling to Chester Racecourse for a three-day race festival from 6 May.
Contractors have installed traffic lights at the A483 junction, just south of the A55 roundabout, and at the junction linking the A483 to the B5445 Wrexham Road, replacing a mini roundabout.
They will be synchronised with new lights at the A55/A483 Posthouse roundabout when they go live and the four-lane roundabout opens fully, say officials.