Trio in Nepal quake return home to Wrexham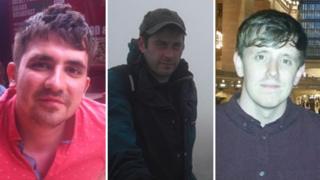 Three Wrexham backpackers left stranded in Nepal following the earthquake have returned home, according to the sister of one of the men.
Brothers Jason Russell, 28, and Darren, 26, and their friend Daniel Hughes, 36, were trekking in a remote area when the quake struck.
Mr Hughes' sister, Joanne, said they arrived at Manchester Airport on Saturday and that they were very tired.
They had been rescued on Thursday after an earlier attempt to find them failed.
The were taken to a military base in Kathmandu to await their flight home.
The whereabouts of 1,000 EU citizens remain unknown and according to a Red Cross missing persons list posted online, 28 people from Britain and Ireland remain unaccounted for.
The death toll has risen to over 7,000 and the Nepalese authorities have ruled out finding more survivors.