Wrexham man says Nepal earthquake villagers 'lost everything'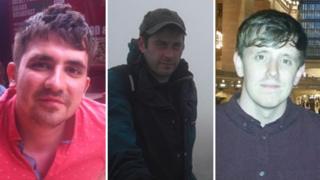 A Wrexham man trekking in Nepal with his brother and a friend when the earthquake hit said he had mixed feelings about returning home and leaving villagers who helped them.
Jason Russell, 28, was on a walking holiday with brother Darren, 26, and friend Daniel Hughes, 36, in a remote area when the quake struck.
"We escaped out of there but they have got to carry on," he said.
The men had an "emotional" reunion with family and friends on Saturday.
They were rescued by helicopter on Thursday and taken to a military base in Kathmandu to await a flight home.
A previous attempt to get to them failed due to the weather.
"The people out there have lost everything and they didn't have much to begin with," said Mr Russell.
"Everything they did have they were happy to give to us."
Mr Russell explained how they were walking in a remote mountain area when the ground began to shake, forcing him off his feet.
Their guide led them back to a village where earlier they had visited a tea house which had collapsed in the quake.
The owner led Mr Russell's group to another village where they were put up for a few days in a converted chicken coop with villagers who had lost their home.
"Villagers were feeding us but they were running out of food," he said.
The group managed to use a phone to alert their tour operator who arranged their rescue.