Fundraising drive saves Wrexham Welsh centre from axe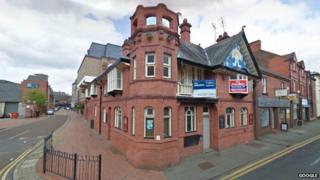 Five weeks after being given notice to quit by its landlord, directors of the Saith Seren Wrexham Welsh Centre say they have raised enough money to keep it open.
The closure was announced in April, with landlord Pennaf Housing Group citing "outstanding issues".
But directors have received funding pledges of £3,000 a month.
Formerly the Seven Stars pub, it was reopened in January 2012 for Welsh speakers to have a drink and chat.
Marc Jones, who chairs the community cooperative venture, said officials were "overwhelmed" by support.
A further £10,000 in one-off payments has also been received, with money coming from people locally and around the world.
The board will meet on Tuesday to assess its options, with ambitions to make it more attractive for events, meetings and classrooms.