Fire crews remain at Saltney warehouse blaze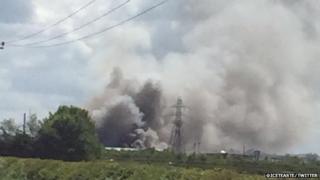 Firefighters at the scene of a storage warehouse fire in Flintshire are set to remain on the scene for some time.
Workers at 11 industrial units were evacuated after the blaze broke out at a building housing recycled waste and carpets in Saltney shortly after 11:30 BST on Wednesday.
North Wales Fire Service said 17 firefighters will damp down hot spots on Thursday evening.
Crews from six fire stations were sent to the scene at the height of the fire.