Denbighshire head teacher sparks Welsh language row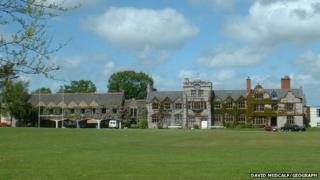 Young people should not be "forced" to learn Welsh as it makes them academically weaker than their English peers, a head teacher has said.
Toby Belfield, of the independent Ruthin School, Denbighshire, also said children should be taught with English as their first language.
Cymdeithas yr Iaith (Welsh Language Society) have condemned the comments as "anachronistic".
His remarks have led a sailing club to cancel an arrangement with the school.
'Damage education'
Mr Belfield made his comments in a letter written to the Denbighshire Free Press.
Speaking to BBC Wales, he justified his comments, saying if all schools were Welsh medium it would reduce the pool of teachers that could be appointed.
He said that would "damage the education for young people".
Cymdeithas yr Iaith's education spokesman Ffred Ffransis said bilingualism comes with "major advantages".
"Every objective study shows that children who are fluent in Welsh perform better educationally," he added.
According to an Estyn school inspection in 2014, Ruthin School had 227 pupils - just over half of them sixth form students. It is an independent fee paying school, charging fees for day pupils starting at £9,500 a year.
In 2014, the school had no first language Welsh speaking pupils, though 41% of students spoke English as a second language.