Service to remember Wrexham WW1 'souvenir' bomb tragedy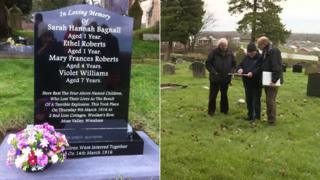 A service has commemorated four girls who died when a German bomb, brought home as a "souvenir" in World War One, exploded in Wrexham.
The incident happened when Pte John Bagnall, who had returned from war, dropped the shell fuse at his home in Moss Valley on 9 March 1916.
The service at the children's unmarked graves was held on Wednesday.
Around 30 people attended, including relatives of the victims who had been traced by local historians.
There were other people in the small cottage at the time of the explosion: Pte Bagnall's wife, Mary; one-year-old daughter Sarah; a seven-year-old niece, Violet; and sister-in-law Sarah Roberts along with her two children, Mary and Ethel, aged four and 15 months.
Ethel was killed instantly. The other three girls died later in hospital. Others sustained injuries, including Pte Bagnall who lost a leg, while Ms Roberts lost both legs.
The story was rediscovered by members of Broughton and District History Group, who found the incident had been largely forgotten - even by family members who did not know where the girls were buried.
Researchers Phil Coops and Robert Webb started a campaign to mark the children's unmarked graves, with a gravestone since erected at Holy Trinity Church in Gwersyllt.
They said Pte Bagnall had thought the shell fuse was safe as it had been "chucked around in the barracks and trenches" for six months without any ill-effects.
Among those who attended the short service was Sue Edwards, the great-granddaughter of Pte Bagnall.
"It was like a big dark secret... I had heard that some kind of a bomb had gone off but I wasn't even aware of all this until about six months ago," she explained.
"It's nice now; it's laid a lot of ghosts to rest."
Mr Coops said: "I've got so many emotions running through me... there's been a lot of work.
"I'm just pleased that it's happened and pleased that so many people have turned up to remember the children."