Airbus footballer banned for Adam Johnson tweets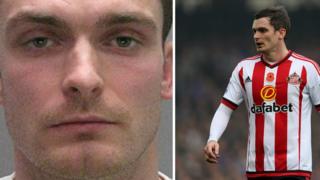 A Welsh Premier League footballer has been banned for tweets he posted after the trial of ex-England international Adam Johnson.
Airbus UK Broughton's Ryan Wade, 28, was banned for three "approved competition" matches from 21 April.
A hearing on 5 April found he "brought the game of association football or the association into disrepute".
Johnson, 28, was jailed for six years for grooming and sexual activity with a girl aged 15.
The former Sunderland player has lodged an appeal against his sentence.
BBC Wales understands the nature of the tweets was deemed offensive and were sympathetic towards Johnson.
The Welsh Premier League said the three-man panel sat at the headquarters of the Football Association of Wales.
Wade has been suspended from all football-related activity and fined £150, as well as a £50 contribution towards costs.
The club, based in Broughton, Flintshire, said in a statement: "The club carried out our own investigation and disciplinary process at the time and that has now concluded."
Wade signed for Airbus almost four years ago and has made 28 appearances this season, scoring four times.