'Illegal' workers at Wrexham's new super-prison site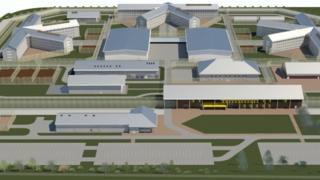 A number of illegal workers have been found working on the construction site of the UK's biggest prison, a court has heard.
Flintshire Magistrates' Court was told an immigration enforcement team visited the site of the £212m Berwyn Prison in Wrexham on Friday.
The details emerged during the Saturday hearing of a man from Ukraine who is accused of working illegally.
His case has been sent to Mold Crown Court at a later date.
The defendant's solicitor told the court: "It's quite ironic to say the least."
The new prison will hold about 2,000 inmates when it opens in February 2017.