Clampdown over graveside decorations in Denbighshire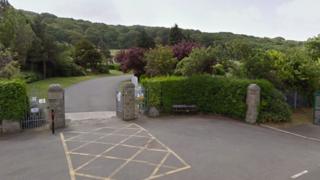 Tightening rules over graveside decorations and displays at Denbighshire cemeteries could lead to a backlash from the public, councillors have been warned.
Denbighshire council wants to make changes following a rise in complaints over small gardens of remembrance being constructed over graves.
Walking dogs in cemeteries has also been raised as an issue.
Councillors are due to make a decision when they meet on Thursday.
In a report to the council's communities scrutiny committee, the head of highways and environmental services Steve Parker called for a "more robust response" to any breaches of cemetery rules.
Only headstones are allowed, with small vases on the plinth, and although everyone buying a grave since 1999 has had to sign an agreement, there has been a growing tendency to construct small gardens of remembrance over the graves.
'Resistance'
He said embellishments could be "of questionable taste" and detracted from "the generally tranquil appearance of our cemeteries", making them difficult to maintain.
He warned some owners were likely to resist, even though they have all signed contracts agreeing to abide by the rules.
"No dogs signs are being ignored with dog mess causing a nuisance and families being left upset by headstones being urinated on", he added.