Mold landfill plans: Application for 325,000-tonne site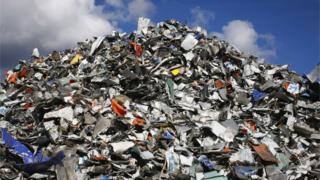 A new landfill site, capable of taking 325,000 tonnes of waste a year, could be created in Flintshire.
Natural Resources Wales (NRW) refused a plan for the same site in Alltami last July due to concerns over the smell.
Now, a new application has been submitted by RJS Civil Engineering Limited and a consultation has begun.
NRW said an environmental permit would only be issued if plans showed the site would operate safely, without harming the environment or local communities.
The total weight of landfill in Wales in 2014-14 was 450,000 tonnes - a 30% fall in three years.
The consultation runs until 2 June.