Inquiry after cars submerged at high tide at Talacre beach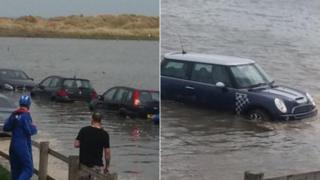 An investigation has been launched after 20 vehicles became submerged at a north Wales beach car park, which was left unlocked before high tide.
Flintshire council said Talacre beach car park is normally closed before the high spring tide.
But the vehicles had to be left after a 9m (29.5ft) high tide peaked on Sunday at about 12:40 BST.
The site is privately owned with public access and signs warning "parking is at owner's risk", the council said.
Steve Jones, chief officer streetscene and transportation, said: "There are a series of gates which provide additional security, to prevent people gaining access to the protected dune areas and to prevent night-time parking, which are opened to allow access for the council's cleansing teams in order for them to cleanse the beach area.
"Investigations are continuing into the reasons why some of the gates were open yesterday."