Prestatyn golfer in near miss with train over £2 ball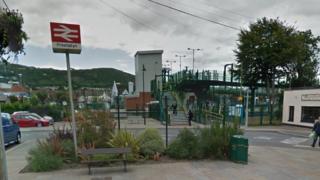 A train was forced to make an emergency stop after a golfer went to retrieve his £2 golf ball on a track in Denbighshire.
The near miss happened close to Prestatyn railway station just after 14:30 BST on Wednesday.
The train driver was "in such distress" he was unable to continue his duties, British Transport Police (BTP) said.
It warned people to stay safe and stay off the tracks.
Sgt Gemma Jones said: "Sadly, time after time, we receive reports of people trespassing on the railway, whether to take a shortcut or just out of curiosity.
"However, for someone to go on to the tracks just to retrieve a £2 golf ball is beyond comprehension."
It was "incredibly fortunate" that no one was injured, she added.