Elderly man scales Glan Clwyd Hospital scaffolding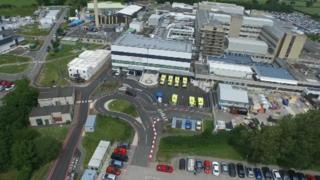 An investigation has been launched after a 75-year-old man scaled scaffolding at a Denbighshire hospital.
Crews from North Wales Fire and Rescue were called to Glan Clwyd Hospital at Bodelwyddan at about 19:15 BST on Monday after the patient was spotted.
The firefighters helped the man climb back down the scaffold.
Hospital officials said they are now examining how the man got access to the area.
'Urgent investigation'
"This was a very concerning incident which clearly should not have been able to happen," the hospital's director, Craig Barton, said.
"An urgent investigation is taking place between the health board and the contractors to establish how a patient was able to get access into an area where building work is underway and to identify what additional measures are needed to make sure this cannot happen again."
The hospital has been undergoing a seven-year redevelopment project, which has led to building work at various points across the Glan Clwyd site.