TJ's Skip Hire to pay £20,000 for waste offences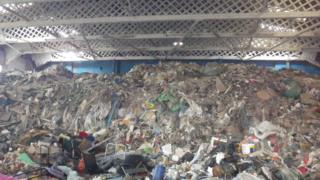 A Flintshire skip firm has been ordered to pay more than £20,000 in fines and costs after failing to remove 800 tonnes of waste.
TJ's Skip Hire, of Buckley, had stored mixed waste skips outside at Deeside industrial estate instead of within secure containers since 2013.
The company admitted four offences of failing to comply with a permit and an enforcement notice.
It said it did care but a manager had been ill.
Llandudno magistrates heard plastic, plasterboard, wood, carpets and rubble was among the waste.
It fined TJ's Skip Hire £3,000 for each offence with costs of £8,178.
The court also ordered the waste and skips be removed in the next 10 months.
'Little done'
Prosecutor Dafydd Roberts said: "What aggravates this case is each of the breaches had been brought to the attention of the defendant over a number of years. There has been little done."
Huw Roberts, defending, said the business had not set out to disregard the requirements.
Vanessa Lang, from Natural Resources Wales said: "Sites like these have permits with strict conditions in them so that they don't pose a risk.
"The motivation behind the crime was financial, and by not complying with the permit to protect the environment, TJ's Skip Hire Limited were at an advantage compared to other sites that follow rules and regulations."
She added: "We hope that the outcome of this case will send out a positive message, that we will we take action in such cases to protect people and the environment, as well as safeguarding the market place for legitimate operators."