Taxi drivers in Wrexham helped to avoid counterfeit cash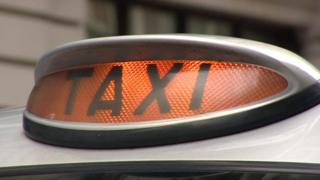 Taxi drivers in Wrexham have been given detector pens to help them avoid counterfeit cash.
The Wrexham council and North Wales Police campaign comes after police found fake £20 and £50 notes in circulation in the town centre.
The free pens contain ink which leaves a permanent mark on counterfeit notes.
Taxi drivers often work in poor visibility and serve customers in a hurry - making them more susceptible to people using counterfeit money.
Cllr David Kelly, lead member for planning and public protection, said counterfeit notes have a "detrimental effect on the local economy".
"The majority of taxi and private hire drivers are self-employed or work for small businesses, so it's important that they do not become victims - it's effectively a loss of income for them," he added.