Traveller caravans 'shut down' Deeside leisure centre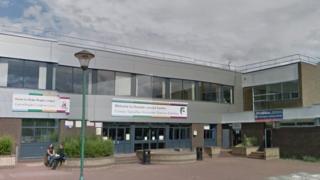 Deeside Leisure Centre is closed to customers as Flintshire council tries to move a group of travellers from the car park.
The group of around 11 caravans arrived at the Queensferry facility at about 14:00 BST on Tuesday, August 23.
A council spokeswoman said the situation is "ongoing".
She added: "There is a good chance the centre could be closed for the rest of the day.
"We are working with police to move them on."
A barrier has been erected at the back of the centre to deter travellers, and there are now "potential plans" to introduce a barrier at the front to prevent further problems.