'Warnings not heeded' about Deeside man killed by train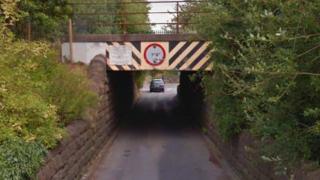 Health professionals failed to heed warnings about a Deeside man who ran into the path of a high-speed train, an inquest has heard.
Christopher Jones, 26, from Mancot, died at nearby Pentre in June 2015.
His mother Jane Marks said she had tried to stress to professionals caring for her son that he would harm or kill himself.
But a psychiatric nurse said Mr Jones told her he was not having suicidal thoughts.
Coroner John Gittins heard that train driver Tim Brookes saw a man dash out from shrubbery alongside the line, giving him no chance to brake.
Mr Jones died of multiple injuries.
Miss Marks told the inquest that hours before her son's death, she had decided to apply for a bank loan to pay for a private home for him, "because Betsi Cadwaladr [Health Board] were doing absolutely nothing".
Mr Jones' mental health problems began five years earlier while he was studying for a degree in IT and working part-time in a hospital.
'No immediate risk' of self-harm
His condition deteriorated in 2012 after a serious bike accident and he became isolated, spending much of his time on the internet, his mother said.
She later found he was using legal high drugs bought online from South America.
In 2014, he spent three months in hospital after a suicide attempt.
Community psychiatric nurse Catherine Boyle told the hearing that by June 5, 2015, there had been a "significant" decline in Mr Jones' condition.
She last saw him on June 10 when he told her that his suicidal thoughts were in the past.
"I never believed that would be the last time I would see him," she said.
Dr Lenka Zigova, of the Queensferry Medical Centre, said she saw Mr Jones on June 3 at the request of his counsellor and she, too, felt that he posed no immediate risk of self-harming.
The hearing continues.