Investigation into Deeside paper mill fire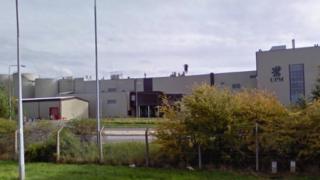 An investigation into the cause of a fire at a former paper mill in Deeside is taking place on Tuesday.
Emergency services were called just after 20:00 GMT on Monday to UPM Shotton, formerly Shotton Paper mill, on Deeside Industrial Park.
Six appliances tackled a blaze in the recycling plant room for hour hours, with the fire extinguished just after midnight.
No-one was hurt and the firm said there was no loss of production.
It is thought the fire broke out in a waste residue holding bay in the materials recovery facility.
General manager David Ingham added: "We are grateful to the emergency services who responded in a timely and professional manner to bring the situation under control."