Janet Commins: Man to appeal against manslaughter conviction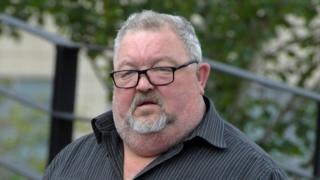 A man who was jailed for killing a schoolgirl in the 1970s is to appeal against his conviction after another man was jailed for her manslaughter.
Noel Jones, 59, was convicted of the 1976 manslaughter of 15-year-old Janet Commins in Flint and served half of a 12-year sentence.
Last month Stephen Hough was convicted of manslaughter, rape and sexual assault at Mold Crown Court.
The 58-year-old was caught by DNA found on the body of his victim.
Janet went missing after leaving her home to go swimming on 7 January 1976.
Four days later, her body was found under a thicket near a school playing field. She had been suffocated during a sexual assault.
Mr Jones, who was 18 at the time, admitted killing her but until now, he has never challenged his conviction and told Hough's trial he was made a scapegoat by police because he was a barely literate Gypsy.
Mr Jones issued a statement on Wednesday to announce he was lodging an appeal against his conviction.
He said: "The initial steps relating to that procedure have already been taken. The confession I gave during that investigation was false and only given under pressure.
"During the original trial for murder, when offered a chance to plead guilty to manslaughter I felt I had no option but to take that plea, due to the false confession I had made, even though I knew I was completely innocent - I was only 18 years old at the time."
Hough was questioned after Janet's death but was ruled out by police after he said he was stealing petrol the night she was killed - an offence for which he was fined.
In 2006, police carried out a cold case review and DNA from a man was identified in samples which had been taken from Janet's body and stored for three decades.
In 2016, police took a sample of Hough's DNA when he was arrested for sexually assaulting a 15-year-old girl - a crime he later admitted and for which he has been given three years in prison.
In a routine cross-matching exercise, it was linked to sperm cells found on Janet's body.
During the trial, the jury heard it was a billion times more likely to belong to Hough than anyone else.