Hospital's surgery errors led to Flint woman's death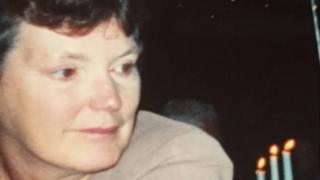 A woman died almost a year after her uterus and bowel were damaged during surgery, an inquest has heard.
Annette Aldridge, 70, had a hysteroscopy and polypectomy at Glan Clwyd Hospital in March 2016. An inquest heard the perforations were most likely caused by a camera scope.
Mrs Aldridge, of Flint, died of organ failure due to pneumonia in January.
Coroner Nicola Jones recorded a narrative conclusion and the health board said errors were made.
Mrs Aldridge suffered internal bleeding and needed further procedures to repair the damage to her bowel, the inquest in Ruthin, Denbighshire, was told.
Ms Jones, assistant coroner for north Wales east and central, said Mrs Aldridge was not appropriately or effectively diagnosed post-operatively.
The consultant who led the surgery, Peter Sullivan, was summonsed to appear at the inquest but did not attend.
His assistant in the operation, Dr Arumugam Jayanthi, said the hysteroscope came apart during surgery and Mr Sullivan insisted on putting the camera back together inside Mrs Aldridge.
Dr Jayanthi said she would not have taken this approach and upon trying to remove a polyp, she told Mr Sullivan something did not feel right, but was told to carry on.
Mrs Aldridge suffered intense pain following the surgery and despite Dr Jayanthi raising concerns with Mr Sullivan and Mr Aldridge telling medical staff something was not right, there were delays in a correct diagnosis.
Heledd Jones, head of women's inpatient services, apologised on behalf of Betsi Cadwaladr University Health Board and accepted surgical mistakes had been made.
She said since Mrs Aldridge's death, changes had been made regarding early recognition of a rapidly deteriorating patient and monthly audits on health standards were carried out.
Staff are now contractually compelled to report any causes for concern in clinical situations.
Dr Jayanthi said she would now deal with a similar situation in a different way and would further challenge the behaviour of a colleague if she had concerns about a patient.
"I regret that," she told the inquest.