Former AM barred from Flintshire council for 'bullying'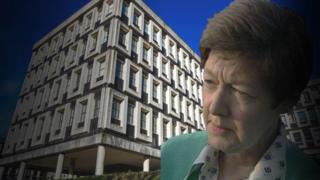 A former AM was disqualified from being a councillor after calling a planning officer "mentally challenged", a report has revealed.
Alison Halford, who retired from Flintshire council in May, sent emails and a tweet criticising the officer and copied in other councillors.
She was banned from standing for 14 months after a tribunal ruled she had "bullied him".
On Monday, the council will consider a report and if lessons can be learnt.
BBC Wales has contacted Ms Halford, the former AM for Delyn and ex-Assistant Chief Constable for Merseyside Police, for comment following the publication of the tribunal report.
A tribunal report, to go before the council's standards committee, said her actions were "highly offensive, extremely insulting, malicious and unwarranted".
'Highly offensive'
In April 2016, the Ewloe ward councillor sent an email criticising a planning officer over the handling of an illegal traveller site at a former council office in her constituency.
In an email, sent to the planning officer's boss with other councillors copied in, Ms Halford said he was "arrogant, lazy, mentally challenged and has been useless for years".
In May, Ms Halford sent another email to the officer, copying in another manager and a councillor, saying she did "not rate him at all".
The officer, who went off work with stress, complained to the ombudsman.
The case was then referred to the Adjudication Panel for Wales, which, in October, found she had breached Flintshire council's code of conduct by "bullying him".
A tribunal found her actions had been "highly offensive, extremely insulting, malicious and unwarranted", especially as the officer had no responsibility for temporary traveller sites.
It said the emails were a "blatant and deliberate breach of the code" exacerbated by her tweeting about the case in March, saying: "My sin; ticking off LAZY officer. Ugg!"
'Reflect on her actions'
Ms Halford was disqualified from standing for local office for 14 months, despite having retired at the local elections in May.
The report said: "The case tribunal considered that it was a particularly serious example of bullying and that the disqualification had to be sufficiently long to enable the respondent to properly reflect upon her actions before considering re-entering local politics."
Ms Halford has held numerous roles in public office, including as Labour AM for Delyn from 1999 until 2003, a member of North Wales Police Authority and community councillor for Hawarden.
Appointed as ACC for Merseyside Police in 1983, she was the UK's most senior ranking female police officer at the time.
A spokesman for the Public Services Ombudsman for Wales said it welcomed the decision of the tribunal.
"The outcome wholly vindicates the decision to investigate the complaint and refer the matter to the Adjudication Panel for Wales," the spokesman added.