Rhosddu care home residents 'at risk of malnutrition'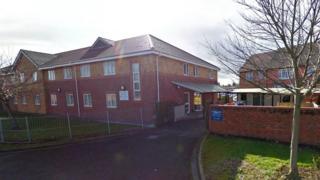 Residents of a care home were at risk of malnutrition because care plans were not followed, a watchdog has found.
Stansty House Nursing Home in Rhosddu, Wrexham, also put residents at risk of harm because their needs were not explained to agency staff.
The Care and Social Services Inspectorate for Wales (CSSIW) served three non-compliance notices on the owners, Minster Care Group.
A Stansty House spokesman said it took "immediate action" to address issues.
The home is registered to accommodate 77 people - 28 of whom needing nursing care and 24 with dementia.
In a newly-published report after a visit in October, the CSSIW said the home was not meeting the needs of all its residents and staffing issues and "lack of leadership" were factors "in the decline in the level of service".
Inspectors found files were not updated or analysed by qualified staff and charts were poorly completed.
'Risk of harm'
Three residents at "medium risk" of malnutrition were supposed to be weighed monthly but there were gaps in their records.
Another resident who had been prescribed a nutritional supplement three times a day had actually received it only five times in two weeks.
"The impact on people using the service is people are not as healthy as they could be and may be at risk of harm," the CSSIW report said.
Some of the problems were due to a lack of continuity of agency staff and poor quality handover sheets, so they were unaware of people's needs.
But inspectors did say care staff were "kind and caring and treat people with dignity and respect".
A spokesman for Stansty House said: "A new unit manager has been appointed and they have worked closely with our regional management team to improve procedures and communication.
"Extra permanent staff have been taken on to reduce reliance on agencies and the new team members have undergone rigorous training on new procedures."