Mystery jumper dumper helps homeless in Wrexham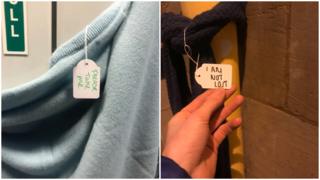 A mystery benefactor has been leaving out warm woolly jumpers for homeless people as temperatures plummet.
It comes as homeless charity bosses warned people will die without help.
Sweaters are being tied to lampposts and shop doors in Wrexham town centre with labels stating "I am not lost" and "Please take me".
Forecasters have issued yellow weather warnings for snow across Wales for Tuesday - with overnight temperatures dropping to -5C.
Homeless shelters were overwhelmed during the last cold spell in December.
The Huggard Homeless Centre in Cardiff took in 39 people from the streets of the capital on Sunday alone and chief executive Richard Edwards warned people will die.
Frances Beecher, of charity Llamau, said it was not scaremongering but the "likelihood and expectation" is people on the streets for prolonged periods could die.
She said most people have no idea what it is like to really be cold - only experiencing it for a few hours, while wrapped up with coats and gloves and after a warm meal or drink.
Ms Beecher described the situation for those on the streets as "bone cold", adding: "Our bodies are healthy and able to withstand it for a couple of hours.
"If they are not, and if they are wet, hypothermia will set in very quickly.
"Very few of us know how cold it is to be homeless."
She said without basic human rights such as shelter and a warm meal, "your body will not withstand that trauma", pointing to life expectancy of a homeless person being 47 years.
Describing provision of help as "spasmodic" across Wales, Ms Beecher said there were good levels in Cardiff, for example, but not everyone could access it because of issues with things such as drugs and alcohol.
She called on people to help by offering blankets, sleeping bags and money for hot drinks and to phone for help.